Witness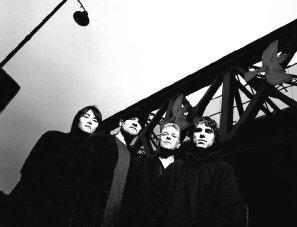 On Saturday 5th April, Witness return to Wigan to play their first ever hometown gig. The band played Wigan many times in early incarnations of the band before they were signed in 1998, but this is their first time back since becoming a critically acclaimed band not just in the UK, but across Europe and the USA as well.
To coincide with the one-off gig, the band will be releasing their highly anticipated EP of brand new material. Tracks include Numbers, The Script, Hide Out and The Ending. It is their first release since their single from the American Pie 2 soundtrack Heres One For You in summer 2001.
An album will follow later in the year.
Tickets
Tickets are available from various outlets. They go on sale nationally on Friday 31st January via www.ticketline.co.uk priced £6 (plus booking fee)
Credit card bookings will be taken on 0161 832 1111 and 0151 256 5555
Personal callers are welcome at the following outlets:
Piccadilly Box Office, Manchester (EasyEverything Internet Cafe, St Annes Square)
Radio City Box Office, Liverpool (St. Johns Centre)
Tudor House, Market Street, Wigan *no booking fee here
Alans Records, Mesnes Street, Wigan
Wigan Pier Tourist Booking Office

Postal Orders are NO LONGER BEING ACCEPTED. All postal allocations have now sold out. Please buy from Ticketline or other outlets.
For postal enquiries please email Lupine Promotions
The Venue


The Mill At The Pier is a music venue situated on Wigans Pier complex. The
actual venue is a converted room at the back of Trencherfield Mill, the
worlds largest working mill engine (yawn).


The venue has a 550 capacity. Recent gigs have included the Animals, Peter
Kay and erm, Max Boyce. The first date of The Verves Gravity Grave tour in
1992 was at the Mill. It was their last gig in Wigan until the Haigh Hall
homecoming gig in 1998.


Accommodation

A list of places to stay can be found here. Accomodation in Wigan is fairly
cheap. Most of the b&bs are situated on Upper Dicconson Street, a 2 minute
walk from the Town Centre. Expect to pay between £15 and £20.


Directions

By Train: For those travelling from outside Greater Manchester, you are likely to arrive at Wigan North Western Train Station. Once outside the station you will see The Swan and Railway pub opposite you. Turn left and proceed under the railway bridge towards the B&Q superstore. Walk straight on, past B&Q, Office World and the funeral directors. To your right you will see Wigan Pier complex. Keep to the left an take the first left turning, which is signposted Trencherfield Mill. The Mill is a 2 minute walk from here. Straight on then turn right at the back of Trencherfield Mill. Altogether it is just over a 5 minute walk.
For those travelling locally, you will arrive at Wigan Wallgate station. On leaving the station turn right. You will see Wigan NW station on the opposite side of the road. Follow directions as above from here.

By Car: For those travelling from the South, once on the M6 take the Wigan junction (26) and Wigan Pier is well signposted from this point onwards. For those travelling in from the North, follow signposts into Wigan town Centre. From here follow the directions as are given in the Trains section above.
For more detailed directions please visit: AA Route Planner


What to do in Wigan

Apparently Wigan has more pubs and clubs per square feet than any other
place in Britain. The town centre is crammed packed full with pubs catering
for most tastes. The towns character is slowly being eroded though by the
numerous chain pubs (Walkabout, Jumpin Jaks, Chicago Rock et al) cropping up all over the place.

Recommended pubs:
The Tudor House: A mixture of indie, rock, goth and student types. Always a good place to start the night off. Situated between the bus station and college. *aftershow party to take place here. Check site closer to the event for details on how to get entry!

The Tavern: pub cum live music venue. Friday night is Rock night, while
Saturday see's 4 live bands and dj playing. The Wigan Music Collective is based here. Situated in the Town Centre on Mesnes Street.

John Bull: Right in the town centre on the Wiend. Attracts mainly an older crowd and bikers. Worth a visit for the friendly atmosphere, great jukebox and good beer.

Cafe Nirvana: live music, caters mainly for the young rock kid crowd.
Between Library Street and King Street.

Maximes: Rock Night All-nighter on a Friday attracts a big crowd. On
Standishgate in the town Centre.

Places to shop Its shite for clothes but theres a few music shops. Music
Zone in the Galleries is the cheapest by far. All albums £10 or less. Smiths
on Mesnes Street also has a good collection of singles, with vinyl
occasionally stocked. Static Records on the Wiend is a great place to find
2nd hand rare vinyl. Well worth a visit.
Places to visit Haigh Hall, Wigan Park, Pennington Flash, Three Sisters and of course the JJB stadium home of the mighty Wigan Athletic (11 points clear at the top of the second division at time of writing!). See Wigan Council site or Lqqk for more info.